Real Weddings
At The Kinsale Hotel & Spa
Tina & Killian
Tina & Killian's Wedding shot by Mario Photo – Video Production, held at Kinsale Hotel & Spa 2019
---
Marian & Alan
Marian & Alan's Wedding shot by Mario Photo – Video Production, held at Kinsale Hotel & Spa 2019
---
Carissa & Alex
A beautiful wedding video brought to us from www.urayweddings.com/ from Carissa & Alex's wedding held at Kinsale Hotel & Spa in 2019
---
Linda & Gary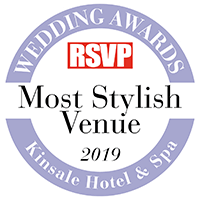 "Linda and Gary's love story started back in 2006 when a mutual friend introduced them, and it certainly was love at first sight. After eight amazing years together, including the birth of two beautiful children, Gary decided to complete their family (and Christmas celebrations) and got down on one knew, the rest … is history!
By the summer of 2015, wedding planning was well underway, the date was set, St. Patricks Church, Bandon was booked, now all they needed was a venue for their reception. After visiting the Kinsale Hotel & Spa for events held by friends and family, Linda & Gary knew that the attention to detail was fantastic, and after a visit with the wedding team, their minds (and date) were set!
While the Kinsale Hotel wedding team were busy looking after everything for their reception, social media directed Linda to a local event planner Epiphany Weddings and Events. After discussing her vision with Kelly, whose imagination and work ethic was second to none, Linda decided to leave the church décor to Epiphany, and completed the elegant theme with songstress and friend Angela Ryan who performed in the church.
Leading up to the big day, Linda & Gary made sure that they had all their personal touches in place, picking up smaller items to add those finishing touches to make their day the unique, elegant occasion that they had envisioned. Elegance and simplicity were also reflected in their colour scheme, choosing to go with an ivory on ivory timeless theme, perfect to look back on in years to come.
The couple wanted everyone to feel comfortable on their big day, so it was important to them to find a wedding photographer who would not only capture the beauty of their wedding day, but who could also engage with their guests. After meeting with Adrian O'Neill, and looking through his collection, they decided that he just had to be booked! One of the easiest decisions for Linda & Gary was their wedding cake, which was designed by the amazing Baker Boy Cakes.
Another huge decision to make your wedding, is your evening entertainment. Linda and Gary were lucky enough to attend a wedding in Killarney and were introduced to the popular wedding band Arklight, they were so impressed with their performance that less than 24 hours later, they were booked!
One of the final (and more important) decisions for Linda was where to go for her wedding dress. Like every bride, Linda wanted to feel glamourous on her big day, but also comfortable and able to enjoy a dance along with the rest of her guests. After looking through several bridal gown stores, Linda fell in love with a dress supplied by Diamond Bridal in Maylor Street, Cork, and simply knew this was the dress for her.
Once the bride was taken care of, it was time to look after the bridal party, with the ladies all in agreement when it came to style and colour, it was easy to find the right gowns from ASOS.
The focus was now on the men and he experts in Morleys were Gary's first and last company of choice, with over thirty years of experience in tailoring and fitting, he was sure that his groomsmen would feel great throughout the day and evening celebrations."
A word on the wedding coordinator:
"Having two young children doesn't make any type of planning easy, especially planning a wedding with hundreds of guests, but the team at the Kinsale Hotel filled us with confidence and reassurance every step of the way.
From the moment we stepped out of the wedding car outside the hotel, to the moment we reluctantly left, we felt like we were the most important people ever to stay there!
No request was ever too much, and our expectations were exceeded time and time again.
We just can't wait to stay again."
---
Linda & Lee
Linda Fogarty and Lee Brockway made the trip from Wales to Cork for their humanist wedding ceremony in Kinsale.
They were wed at the Kinsale Hotel and Spa, in an outdoor ceremony, followed by a reception. Linda said: "Planning a wedding from abroad could have been very stressful, but our wonderful suppliers made it a breeze and it all went superbly on the day."Linda is from Tower and Lee is from Cardiff, where they met seven years ago at a charity event.
Present on the day were the bride and groom's brothers, David and Paul, as well as groomsmen and Linda's stepdaughters, Megan and Carys, who she said played an important role. Lee's stepmum was unfortunately unable to travel from Cardiff to be with them, but they Facetimed her for the ceremony and speeches to make sure she was still part of the day. "Friends are the family we choose for ourselves so it was great for us to have them involved" said Linda. "Leone Levis was my maid of honour along with Louise Scanlon and Theresa Bray-Ellis as bridesmaids, as well as Carys and Megan as junior bridesmaids. Lee had his longest best friend from Cardiff, Steve Martin, as his best man, as well as my brother David and his brother Paul as groomsmen."
The couple had a humanist ceremony by Geraldine O'Neil and they included Irish and Welsh traditions — from reading poems and lighting candles to the Welsh love spoon! "It was really great having the ceremony and the reception in the one place. The location was spectacular and the weather absolutely added to that" said Linda. Christine O'Sullivan and her team from Creation Hair and Beauty did the hair and makeup. Their cake was from Trace of Cakes. The band were The Love Bugs, while their first dance was to The One from Kodaline. Laura & Benny Photography did pictures throughout the day, including a trip to Charles Fort, while DM wedding videos also captured every moment.
"To say it really was the best day of our lives is an understatement" added Linda. "I think out of all the wonderful memories, walking down the aisle and meeting each other at the top, turning and that first look at each other. It does take your breath away."
Liz at Wonderous Weddings did the bouquets, button holes, corsages and ceremony flower arrangements, and Daisy Chain Kinsale did the table flowers for the reception — "all of whom helped ensure we had a stress free day and were allowed to have the best day of our lives" added Linda.